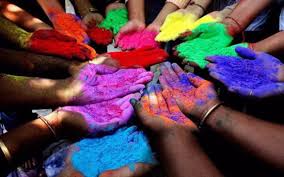 Disperse dyes were formulated and introduced to permit dyeing of hydrophobic thermoplastic fibers including nylon, polyester, acrylic, and other synthetics. The disperse dyes are small polar
molecules, usually containing anthraquinone or azo groups which do not have charged cationic or
.anionic groups within the structure
The disperse dyes are sparingly soluble in water and must be dispersed with the aid of a surfactant in the dyebath. As the small amount of dissolved disperse dye diffuses into the fiber, additional dye dispersed in solution is dissolved until the disperse dye is nearly completely exhausted onto the fiber. The light fastness and wash fastness of these dyes is generally good, but difficulty has been encountered with fume fading from certain of the disperse dyes. Many disperse dyes have appreciable vapor pressures at elevated temperatures and can be "dyed" onto thermoplastic fibers by sublimation, which involves diffusion of the dye vapors into the fiber.
Disperse dyeing
Disperse dye is another dye class that can be applied in nylon dyeing because of the hydrophobic property of nylon. The glass transition temperature (Tg) of nylon is 50–60 °C and it is easier to swell than polyester, thus dyeing at boil under atmospheric pressure can yield satisfactory exhaustion. Disperse dye has better coverage of barre than acid dye, but it is difficult to obtain dark shades, and some disperse dyes exert poor washing fastness, especially for relatively deep colour. Nowadays, with the increasing requirement of higher colour fastness, dyeing nylon with disperse dye is declining. The typical dyeing curve is shown in Fig. 13.19 and the dyeing recipe is shown in Table 13.16.
In some cases, to obtain better leveling and dark shade, disperse dye and acid dye are combined in nylon dyeing. A cationic agent is not recommended in disperse dyeing, since it would be absorbed by disperse dye particles, decreasing the stability of dyebath. The non-ionic type is greatly preferred.
Disperse dyes
Disperse dyes are characterized by the absence of solubilising groups and low molecular weight. From a chemical point of view more than 50% of disperse dyes are simple azo compounds, about 25% are anthraquinones and the rest are methine, nitro or naphthoquinone dyes. Disperse dyes are used mainly for polyester, but also for cellulose acetate and triacetate, polyamide and acrylic fibres. Disperse dyes are supplied as powder and liquid products. Powder dyes contain 40–60% of dispersing agents, while in liquid formulations the content of these substances is in the range of 10–30%. Formaldehyde condensation products and lignin sulphonates are widely used for this purpose. The following chemicals and auxiliaries are used for dyeing with disperse dyes;
Dispersants: although all disperse dyes already have a high content of dispersants, they are further added to the dyeing liquor and in the final washing step.
Carriers: for polyester fibre, dyeing with disperse dyes at temperatures up to 100°C requires the use of carriers. Because of environmental problems associated with the use of carriers, polyester is preferably dyed under pressure at temperature >100°C without carriers. However, carrier dyeing is still important for polyester-wool blends.
Thickeners: polyacrylates or alginates are usually added to the dye liquor in padding processes.
Reducing agents (mainly sodium hydrosulphite) are added in solution with alkali in the final washing step for the removal of unfixed surface dye.
Owing to their low water solubility, disperse dyes are largely eliminated by adsorption on activated sludge in waste water treatment plants. Some disperse dyes contain organic halogen, but they are not expected to be found in the effluent after waste water treatment because of their adsorption on activated sludge.
The following disperse dyes potentially have an allergenic effect:
Disperse Red 1, 11, 15, 17
Disperse Blue 1, 3, 7, 26, 35, 102, 124
Disperse Orange 1, 3, 76
Disperse Yellow 1, 9, 39, 49, 54, 64.
Conventional dispersants (formaldehyde condensation compounds, lignosulphonates, etc.) are poorly biodegradable. However, some dyes are formulated with more readily bio-eliminable dispersants.
Disperse Dye Printing
Disperse dyes are used for sublimation transfer printing, but can also be printed directly to the cloth. Although disperse dyes are substantive to acrylics, triacetates, and other synthetic fibers, polyesters are the largest fiber group for this printing application.
Disperse dyes do not require any specific fixing agent because the dyes become substantive to the fibers through phase changes initiated by temperature (solid to vapor to solid). A wide range of thickening agents can be used, including crystal gum, modified starch, locust-beans, etc. However, in choosing the thickener, it is important to consider both proper adhesion of the thickener to the cloth and ease of removal from the cloth in the washing process. Fixation is typically performed with high temperature steaming and washing to remove excess dyes and thickeners.
Disperse dyes on other fibres
Disperse dyes can be used to produce light to medium deep shades on acrylic and modacrylic fibres. The dyeing mechanism and process correspond to those used on polyester and cellulose acetate fibres. However, dyeing is to be performed below 100°C. Addition of carriers is not required. The good migration properties of disperse dyes result in problem-free level dyeing.
Poly (vinyl chloride) (PVC) fibres, are characterised by their flame retardance. They are dyed preferably with disperse dyes. As with modacrylic fibres, high temperatures must not be used because of shrinkage of the PVC fibre. Hence, some fibres are dyed at 60–65°C with dyeing accelerants. Other PVC fibres can be dyed at 100°C without a carrier and a few even at 110°C. Dyes must be selected with regard to the light-fastness desired.
Elastomeric polyurethane fibres are used in stretch articles and in knitted fashion materials. Light shades can be dyed tone-on-tone on polyamide-polyurethane mixtures with disperse dyes at 95–98°C and pH 6.0–7.0. However, the wet-fastness on polyurethanes is lower than on polyamide. Because of the temperature sensitivity of polyurethane fibres, mixtures of elastomeric and polyester fibresmust be dyed with small molecular, rapidly diffusing disperse dyes for 30 min at 120°C according to the HT process. Modified PES fibres that are dyeable at 100°C without a carrier are often used in mixtures with elastomeric fibres. In all dyeing processes for elastomeric fibres, dyeing equipment that permits low-strain guidance of the material and the lowest possible thermal stress are important (Hunger, 2003).
Properties of disperse dyes
Disperse dyes on synthetic materials have a moderate-to-good wash-fastness. The better wash-fastness may be attributed to the insolubility of the dyes and to the hydrophobic nature of the synthetic fibres. The wash-fastness ratings range between three and five.
The light-fastness rating is found to lie between four and five. The fair-to-good light-fastness rating may be attributed in part to the non-ionic nature of the dye molecules, which will not readily attract water or other polar molecules that may have an accelerating effect on light fading. The ultraviolet (UV) component of sunlight may cause some colour fading due to prolonged exposure of the dyed materials in sunlight.
As discussed earlier, some of the disperse dyes with the anthraquinone structure, especially blue and violet dyes, fade in the presence of nitrous oxide from polluted air. Nitrous oxide fading can be minimised by treating the dyed material with a chemical based on an azoic thiophene–benzene complex (Gohl and Vilensky, 1987). The improved resistance to gas fading occurs because the nitrous oxide will react with this complex in preference to the disperse dye molecules.
source : ScienceDirect
دیدگاه خود را بنویسید